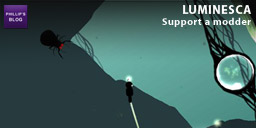 What is Luminesca?
Luminesca places you in control of Lum, a little underwater creature whose home is in grave danger.
Outsmart predators, guide small creatures and scare off rivals using your esca (that's the glowing bit on your head!) Explore an underwater world, full of life, which responds to your touch and physical presence.
Discover the secrets that lie in the deep…
Luminesca is a 2D side-scrolling adventure which focuses on the events of a changing environment, utilising light and physics to challenge the part of you that loves to explore.
Community Funded
Luminesca's early development funding will come from generous community donations on IndieGoGo.
Beyond that, anyone who pre-orders Luminesca will gain access to playable builds of the game and exclusive early content. Development will be closely integrated with the whole community, allowing anyone to voice their opinion every step of the way.
Why I am posting this?
Matt Glanville created a cool EP2 called Union. I was browsing some site I haven't been to for a while and saw his project. I feel that we should do our best to support people from our own community. Please take the time to check out his project and if you can, please consider donating to his project.