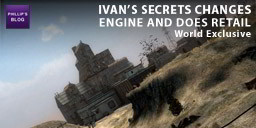 I have a World Exclusive for you.
Ivan's Secrets is jumping ship from Source and moving to Cry Engine. In addition, they may even go retail!
When Jamie told me I was angry but now I am resigned to the idea.
Why I was angry
Why is a mod successful? Well, there are lots of reasons but the main one is the quality of the work. Quality is difficult to define because it's not always about beautiful looking levels, it's a combination of things.
Now, this mod, like many before it, has had great support from the community. That support has no doubt had a small but noticeable effect on the motivation of the modders.
Without the support of the modding community I bet that most mods would just give up. Showing great work and getting encouragement is a circle. As much as I pretend I don't mind how many readers I have, if nobody read and used my site I would probably stop.
Imagine a mod simialr to Ivan's Secrets in quality but for some reason nobody watched, commented or visited the ModDB page. How long do you think the modders would continue? In most cases not long.
Obviously you need quality to work first and some mods get released with very little encouragement because they don't announce themselves. But I still can't help but feel cheated.
I am not suggesting that the developers of Ivan's Secrets planned things this way. I know they didn't, but that still doesn't stop me feeling this way.
This is where I feel there was a misunderstanding when Podcast 17 interviewed Dan and Robert from Dear Esther. People made the same comment about feeling cheated and Robert believed that that people were suggesting Dan and Robert had planned it that way. They didn't, at least most didn't. I have no doubt they didn't. But again, I still feel cheated.
Why? Because people have supported a mod that they believed was going to be free and suddenly they have to pay for it. Customer perception is very important. Break trust with your customer base and it's hard to get back.
In my humble opinion, mods should be stepping stones in retail markets. They should be there to show what you can do and then when you have the support, make and announce a new retail indie game. I bet the players would wholeheartedly support you.
In fact, I think EVERY watcher on ModDB for a mod that goes retail should be given the game for free. They have been there for you, be there for them.
Why I am resigned to it
I don't blame any mod that goes retail. Not matter how many hours you have spent making your mod I have spent more running my website. I've done it for 8 years now and spend hundreds and hundreds of hours per year on it. If I could make money from it I would. Not because I want to get rich from it, but because I would love to do it for a living.
But I know I can't. Nobody would pay to use the site. Its focus is too small to get serious income from advertising revenue, so I am stuck doing it for a hobby. A very time consuming hobby. But I love it and I hope that's why modders make mods.
Mods are different. People spend billions of Dollars per year buying games. Making that jump from "free" to "retail" is not as hard as it used to be.
I fully understand Jamie for wanting to get a return on his work. Just ask Garry from Garry's Mod how it can change your life.
It's a beautiful looking mod with some interesting features. Why shouldn't they benefit from all their hard work?
I wish them and any mod that goes the indie route success – a lot of success. Overall it's good for our community and industry.