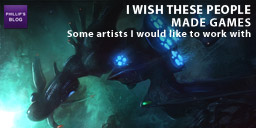 Just a silly little daydream I had today, while cleaning my hard drive of junk.
What if I were some a game producer and I could get various people to make a game with me.
Well, it's never as simple as picking your favourite people from various diciplines. TBB, the PR guy working with Leon Brinkmann once told me that you shouldn't get "the best people, but the right people" and it's a great quote, although you could agrue with the semantics, the point is clear.
Making a team work as a whole is not just a case of putting people together. They must compliment each other in various ways.
Anyway, putting the logistics and reality aside, I though i would tell you who I would like to work with me to make a game.
The Story and setting
My first choice would probably be Alastair Reynolds, partly because I have read every novel he has written and I love them all and partly because Diamond Dogs could make a stunning game or mod. In fact, I asked him about it last year and he said "The truth is, I just don't have any interest in gaming.", which is a shame. Of course, if he were approached by a well-known game developer he may be convinced.
Anyway, who would you choose to write a story for a game? DO NOT choose a story that you would like MADE into a game.
The Music and effects
We all tend to like a variety of music, but some music is just not suitable for games. For me, anything with words is OUT straight away. I think I would find it hard to lsiten to punk or country and western while playing, but if it fits the mood of the game, they let's try it!
I am a fan of Trip Hop and feel it would make a neat transition into game music. I would love to have Vangelis and Massive Attack collaborate on the music and sound design. Haunting melodies from Vangelis would slip nicely between the action and be perfect for exploring etc with deep base and drum sections for the actions – perfect.
I really love Bailey's work for Valve and actually listen to it in the car. I hope he has finished work of HL3 before he left!
don't you agree that music is under-appreciated in mods? More modders should find the time to get composers involved to create something new and fresh.
Who would you choose to create the music?
Voice Acting
This is a tough one. Mostly because I want completely unknown voice actors as I feel that knowing a "voice" spoils the mod. Yes, I see the irony, since I have a very well-known voice in the HL2 community, but that's just my preference.
If I had to pick some know voice actors, I may try and get Patrick Stewart to work on a deeper and more serious character. I am disappointed he worked on American Dad, because that "weakens" his persona in my humble opinion.
I couldn't even begin to think of female voices. Can you?
Concept Art
WOW, if voice actors was hard, this is impossible. I did have somebody in mid, but I can't find his work or name again, so that's a tease. Giger has been "done", so he is out.
There are some incredible artists out there and a quick search on the Internet brings up some amazing work. I do like Daniel Dociu and Stephan Martiniere but I am sure there are potentially hundreds of artists that would be suitable.
Or maybe I would just have a really good look through Deviant Art because that site has some incredible artists of all fields.
Thumbnail image courtesy of Alex Tooth. It's called SS-Gaea
Do you have a favourite concept artists?
(On a side note, while searching for images, I found this great site called ConceptShips, which, if you are into spaceships, will float your boat.
Let's not forget the others!
There are plenty of others involved in making a game, but the above departments are the more visible or obvious for selecting people.
If you feel I have missed a department, please mention it in a comment, along with your selected personnel.