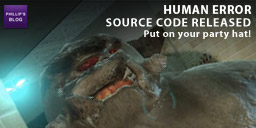 As you know, PP isn't a news site but I felt this was important and should be mentioned. My web friend Au Heppa, the driving force behind Human Error has decided to release the source code of the whole mod!
They had already released the code for the Controllable Manhack as well as the code for the Alien Grunt and the Alien Controller. This means that those features, plus anything else in the mod, is now available to use in other mods.
Thank you Au Heppa and his team. More mods should do this.
But, and here is the kicker, if nobody from the SP community uses it then it's a wasted gesture.
To be honest, I don't fully understand why more mods don't use things like this, there are plenty of mods that use models and textures from other places why not these?
I can understand that modders want to create their own stuff but they are already using stuff created by Valve, so where is the difference.
Yes, a particular thing can be overused, but to tweak a popular saying It ain't what you use, but the way that you use it that is important.
It's the same for a lot of the Guildhall releases. There are some nice new gameplay mechanics in some of those mods and you never see them again. Okay, in this case, maybe the code isn't available for modders, but it's clear that there are plenty of things that can be done within the HL universe to make it interesting for players.
I won't, but it would be fund if I ran a mini-competition that required the use of some code from HE. Almost "forcing" modders to use it somehow.
So, why don't modders release their code and when they do why don't more modders use them?