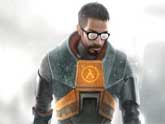 Introduction
Here is an idea for a gameplay mod for Half-Life 2. I propose that somebody create a new version of the HEV suit to include a number of new features. I've listed my ideas but would welcome yours.
Before we go any further, I'm sure that we could all think of many various modes for the suit but the important point is not to give the player too much power (Jet Pack for flying!) and ensure that it fits the theme of the Half-Life universe.
Data Storage and Retrieval Unit
I want something like a PDA on my sleeve. This will allow me to access data networks (Combine scanners, control panels, satellites, email systems, youtube, planetphillip.com etc). This could add some interesting features to mods and also allow the modder a legitimate way to feed the player information without having to worry about other time consuming methods, like voice acting.
Colour
How about a slight colour change just to signify the upgrade or perhaps some form of cosmetic alteration? Clearly that's not important but there could be different versions of the suit available and it may be important to know which version a user is wearing.
Availability
The suit should be available of other characters within the game. For example other rebels or scientist could wear it and be able to do the things the player can do.
Sticky fingers and feet
This may bee very useful in hazardous environments where the users needs to ensure that he or she doesn't drop anything. The feet would have a similar capability to ensure stability in slippery surfaces. I'm not suggesting Spiderman-like climbing ability but perhaps enough to reach a broken ladder or similar.
Enhanced Audio Module
Allows the wearer to hear things both beyond the decibel range of a normal human and beyond the frequency range of most humans. The suit would be able to detect all manner of vibrations. Perhaps it could have the ability to pick-up radio signals too.
Vertical Jump Module
Same thing as the long jump module but vertically. That's gotta be useful somewhere!
Your Turn
Well, there you have them. Just a few ideas to get you started. All we need now is for some smart person to agree with me and start making it. Once released other mod teams could sue it in their mods for enhanced story-telling and gameplay.
It's your turn to propose some features for the suit….