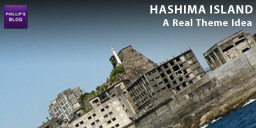 Hashima Island is one among 505 uninhabited islands in the Nagasaki Prefecture about 15 kilometers from Nagasaki itself. The island was populated from 1887 to 1974 as a coal mining facility. The island's most notable features are the abandoned concrete buildings and the sea wall surrounding it.
It's already been used in a few games but the point of my Real Themes posts is to provide inspiration for mappers, rather than suggest they simply copy exactly what they see.
What I like about this place is the complete isolation, more so than somewhere that can be reached by walking etc.
Thanks to CivanT for sending me details about it.
Anyway, enjoy the images.
Useful Links
Gallery
Click on the thumbnails below to open a larger image.