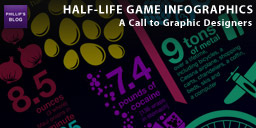 I love infographics. I hope to implement something like them in a future statistics project on this site. There is such a wealth of basic information with all the games that I have no doubt they could be used for some cool infographics. In fact if they are high enough quality they could easily be sold via Cafe Press. If my Photoshop skills were half as good as my imagination I would try and create something.
I collected a bunch of cool infographic images but decided it was probably better if you just Googled. Here are some good examples: Mozy.com and CoolInfographics.com
There seem so many possibilities. Relative numbers of enemies, NPCs, health and Enemies on each difficulty level, Number of melons, trains, breakable crates Vs Non-breakable crates, estimated distance travelled in the games and episodes, indoors Vs outdoors, total words spoken, words and appearances of the G-man, headcrab mountains, the list is almost endless.
The skill lies in being able to create the graphics and make it informative and interesting at the same time.
Is the Half-Life Community up to the challenge?