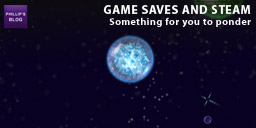 I have just launched Osmosis and found it has reset itself back to the beginning, meaning I have lost all my finished zones, in effect my game saves.
The game was a gift and in all honesty, unless it suddenly and miraculously gets its saves back, I won't play it from the beginning again.
My first thought was to restart, as there must have been a problem. I did this but nothing changed. My next thought was to blame Steam and this is the first part of this article.
Since I only use Steam as my games interface, my first thought if something goes wrong with a game is it must be Steam's fault. Now of course, that's blatantly wrong because it's just an interface, but it shows me how dependent I have become on Steam.
Putting aside the obvious point about what would happen to all my games if Steam were hacked or at least had a serious crash, I have come to trust Steam.
The introduction of Steam Cloud means that Steam account holders can automatically have their game saves stored online and have that data available to be synchronised every time you log into you account. It's a simple idea and nice to have.
That is until you find that most games on Steam don't have that option. Sure, that's not Valve's or Steam's fault, and I am not blaming them, but they have set the bar and I subconsciously expect other developers to follow suit. I have no idea how much space and bandwidth these things would take but the least they should do is offer a one-click local solution.
Which brings me to the second point of this article Mod saves. I wonder how careful we are with them. I really doubt if many players back up their mod saves, I know I don't. That's mostly because I don't play many long mods, but if I lost saves of a long mod when I was nearly finished, I would probably cry.
Wouldn't it be cool if Valve offered "Mod Save Cloud". A place where users could automatically set mods to save a set number of saves. Perhaps Valve could charge a modest fee for this service. That should cover the costs and make life a little easier for players. A file could be edited or downloaded that would tell Steam to save the saves.
Another option would be for me to set up another project called "ModCLoud" where users could uploaded saves of SP mods, that they, and get this, OTHER players could use if they needed or wanted to. Perhaps even MapTap (An application I will be launching VERY soon, to manage Source maps) could include this functionality in the future.
Of course, players could simply set up some kind of automatic backup of save folders, but let's be honest, most of us are too lazy!
Steam is a fantastic piece of software and I love it, as I have said, have we become too dependant on it?