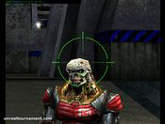 Introduction
This idea may be more suited to DM or CTF type gameplay. Basically through some pickup you would be able to control a enemy for a short period of time.
Details
The most simple option would be some kind of weapon that you fire at an opponent, the moment he is hit you control him. Your character would then be protected from injury or death by becoming invisible or some other system. There could be variations on this theme, one of them being that it is obvious to other players that you control a member of their team. The effect could last for any given period of time or until the character dies, at which point you return to your real character and the enemy previously possessed regains control.
Collection
The weapon needed could be collected through almost any means:
It appears once per round.
After killing a certain number of players.
After you have died a certain number of times (to even things out).
When one team requires only one more flag.
Comment on this idea
Is this idea good or bad? Easy to do or just too much trouble?