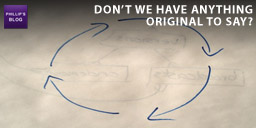 God, I hope I am wrong but have you noticed how nearly all Valve-focused websites just seem to be regurgitating news?
It's certainly not my intention to upset other webmasters but when I look around that's all I seem to see.
You just need to visit a site on Friday to see a rehash of Steam news, with the latest offers. Not only that but just reposts of the latest update from various mods. I am not blaming Valve, as I said before they are masters of promotion. Who else gets their customers to publicise their news for them so well?
Where are the original articles take make us think and consider this fine thing we love called gaming?
Admittedly, I don't visit the bigger sites, just the fan-based ones, and I certainly haven't been involved in gaming as along as many readers but don't you think that the role of professional site and fansite have reversed. In the earlier days smaller sites had the most interesting content and the larger sites the more mainstream stuff.
Now, I am as guilty as other site because 90% of my content is maps and mods that other people have made, but a quick look through my articles shows I have written my fair share of stuff.
I've touched on this with BlueWolf72 who has much more experience in this than I do and he feels that not enough readers are interested, and really all they want is news about mods and plenty of images.
If that's true it's a little depressing.
I know that writing these kinds of articles takes a lot longer than simply posting images or quick interviews and I have a list of topics I have been meaning to write about for a while and I know others have too, perhaps we just need a little motivation or belief they will be read and discussed.
So, are original articles not wanted by fansite readers?
What kind of articles would you like to see? I'm not talking about PP specifically, but all the HL sites.
Let the flaming begin….