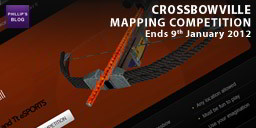 I am pleased to announce the next mapping competition: CrossbowVille.
Full details can be found on the competition's page: CrossbowVille.
I suggest you read the page carefully, because there is one new rule that is related to the sponsors that is very important.
I recently, posted an article about this competiton and ran a poll of the potential themes. BossVille came top, but as I said in the article, the vote itself was not the final decider. As much as I, and obviously you, would like to play that mod, it seems that many mappers were worried that creating interesting boss situations would be too much of a challenge.
I therefore decided on CrossbowVille, which I feel should provide enough focus for mappers to create something interesting, fun and challenging to play.
I would like to take this opportunity to thank the sponsors, Steam Contests and Tt eSPORTS for providing the prizes, in addition to my cash amounts.
Good luck to all those who choose to enter and let's hope this is competition sees some fantastic maps!