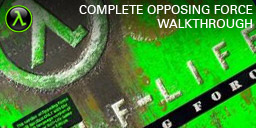 Again, I am very pleased to announce the release of, what I am sure is without doubt, the most comprehensive walkthrough of Opposing Force available.
It was made possible by the writing and research of Stanley E. Dunigan and the formatting skills of William Barnard.
Together, we have created a PDF version that can be viewed both online and printed.
Link:
(A PDF file is a file that can be viewed directly in modern browsers and downloaded to your computer to be opened by a variety of readers. William recommends Sumatra.
The file is about 750KB.
Background
Once I started posting the TREE chapters I thought it might be helpful to add a walkthrough for each chapter. I search the Net and found Stanley's work to be the best. I contacted him and asked permission to post each chapter. He kindly agreed.
He then started to update the walkthrough based on the comments for each chapter. At that point I decided it would be good to create a complete walkthrough PDF file. I asked for help formatting the document and William offered he time and skill.
After many revisions we have finally finished the file.
I will make sure that it is linked to in plenty of places and also promise to update the walkthrough details of the already posted chapters.
In addition, Stanley and William have agreed to do the same for the rest of the games, including Black Mesa, which is fantastic news.