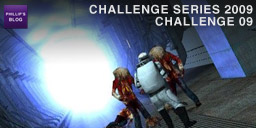 Welcome to Challenge Number 09.
If you don't know what the Challenge Series 2009 is all about, please read the Introduction.
Onto the ninth and penultimate challenge.
The Challenge
I challenge you to completely change your save routine. Specifically I am challenging you to halve the number of save you make when playing.
Why
I have a confession to make: I quicksave every minute or so, in addition I do a proper save when I reach points that look like there may be trouble ahead.
I do this partly because I *HATE* (see that: bold, italics, capitals and asterisks, how much more serious can I make it?) replaying sections. So much so, that once when I didn't save for a while and died and realized how far back I had to start I stopped playing the mod. Sure, I couldn't have noclipped, or started from the next level but I didn't want to – silly, I know but that's my character.
I also do this because I tend to rush when I play. I hope that's because I want to get it onto the site as quickly as possible, rather than some other reason.
The last reason is because I am not a very good player and die a lot – even on EASY. 🙁
The reason I want you to try the challenge is that I suspect we all save a little too often and changing that may make us take the game a little more seriously.
How
Whilst the Borg want you to believe "Resistance is futile" I disagree. Just resist those save urges and only save every other time you would normally. If you were to take the concept a little further do you think that if players knew that if they died they would never get another chance to play that game or mod again they would play really cautiously? In fact would it be possible for players to finish mods without dying? Actually, that will be next week's poll question.
Variations
Perhaps you could stop using quicksave when playing or only save at the beginning of a level. This depends on your level of bravery/stupidity, your skill level and the mod you are playing.