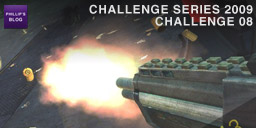 Welcome to Challenge Number 08.
If you don't know what the Challenge Series 2009 is all about, please read the Introduction.
Onto the Eighth challenge.
The Challenge
Don't use your favourite weapon
Why
These challenges are designed to make you think about how you play, why you do certain things and to introduce alternatives that may help you improve.
One of the common traits is that when we have the choice we tend to choose our favourite weapon if it is available. This might be the most powerful weapon, with the exception of the rocket launcher or it may be because you like the sound or way it works when you fire it. Irrespective of the reasons, I want you to avoid it.
Perhaps you first task is to list the weapons in order of preference. That way whatever weapons are available you can't use the highest one on your list. For example. my list might be Crossbow, Magnum, AR2, Shotgun, Pistol and Submachine Gun. If I play a mod and the Magnum, Shotgun and Pistol are available I am not allowed to use the magnum.
Of course, sometimes you have no choice because of the ammo you have or some enemies require certain weapons, but just try to be sensible.
A variation
You could work backwards and with the exception of the crowbar, you must always use the weakest weapon in your possession.
Another challenge would be to only use the Pistol if it is available., I actually quite like the pistol – don't you?
So, get playing and see how easy or hard this is.