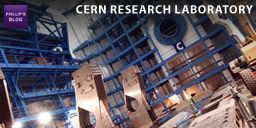 What is C.E.R.N.?
CERN is the European Organization for Nuclear Research, the world's largest particle physics centre.
Here physicists come to explore what matter is made of and what forces hold it together.
CERN exists primarily to provide them with the necessary tools. These are accelerators, which accelerate particles to almost the speed of light and detectors to make the particles visible. Founded in 1954, the laboratory was one of Europe's first joint ventures and now includes 20 Member States.
About
CERN has a couple of attractions for me as a gamer; one is the physical layout and design and the other is the work they do there. Regarding the layout there always seems to be building going on and the extensive tunnels and large cavens could make some cool levels. Also they do some pretty exciting physics research, a little like those guys at Black Mesa!, but the machinery could provide some great models as well as providing some great puzzles. See here for a piece about wanting more interesting puzzles.
Resources:
The Gallery