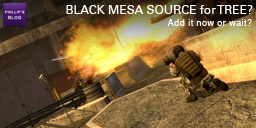 For those that don't know, The Replay Experience Experiment is an event where we replay all the games in the Half-Life series and discuss each chapter and how our feelings have changed since we first played them.
It was always my intention to include Black Mesa in the event but I had been hoping that it would have been finished by now.
As you probably know, Black Mesa is a remake of Half-Life in the Source engine (the engine used in newer Valve games), and whilst it's not an exact recreation of the original it is very, very similar.
Now, the problem is that the team behind it decided to release about 2/3 of the game and that was over a year ago and we are still waiting for the final part.
I haven't played it yet because I want to experience the whole game.
So, this leads to the question with 3 options…What shall I do about Black Mesa…
1. Start adding it straight after Episode Two.
2. Wait until it's finished and then add it.
3. Don't include it in TREE at all, but still post it chapter by chapter once it's finished
I am not going to have a poll because I want to hear your views, not just your choices.
Personally, I want to wait until it's finished and then add it to the event as that's the best place for it.
And I don't guarantee that I'll do what everybody wants, but if enough people express a view and that view is more or less unanimous then I will take that into consideration.