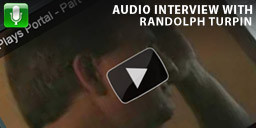 Well, I have an interesting audio interview for you today. It's with Randolph Turpin who recently became a mini-Internet sensation when his son posted videos of him playing Portal for the first time.
I became interested for a number of reasons. Firstly, it was clear we are of similar ages and I find the concept of grey gaming very interesting and secondly because of the thought processes involved for new or non-gamers to Portal. This is a double first for me. He is the first "famous" person I have interviewed and perhaps more importantly he is the first interviewee who is older than me!
He became "famous" when the videos were posted on Escapist Magazine but came from his son's You Tube channel.
Here is the video of the 3-year-old playing Mirror's Edge and Portal mentioned in the podcast.
Randolph has agreed to stop by and respond to any comments, so feel free to ask him your own questions.
Listen to the interview
Loading…