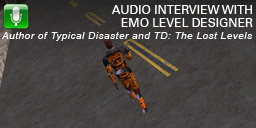 After Emo had released Typical Disaster I thought about having an interview with him, but we delayed organizing it until the release Typical Disaster: The Lost Levels.
We chat about his modding history and the mods themselves.
He mentions Dave Johnston's editing tips. I have received permission form Dave to host them here but until I do that, you can find them on the Wayback Machine Archive.
Listen to the interview
Loading…