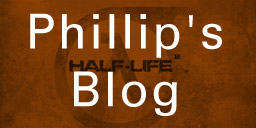 I've recently noticed that there are a few Xbox Exclusive FPS demos available. I did keep a list but have lost it (Sorry). The first one I remember is BlackSite: Area 51, now from my reading this is also going to be a PC release, so why haven't they released a PC demo?
Another one is Perfect Dark Zero, although I can't find any information on a CP release for this.
While I'm in a ranty-type mood I want to talk about the Turok 360 Demo. It seems that you actually have to pre-order the game and then you get a demo. Why would you want to play a demo of a game you have already ordered? It seems crazy to me, so perhaps I have misunderstood the deal. Isn't the point of a demo to convince people to buy the game?
Talking of buying the game, why isn't there a demo or Portal? I know the game itself is not very long but you only need a couple of levels to know whether this game style is for you or not.
Now that I am complaining about Valve, why hasn't there been a demo of either episodes? IS it becasue they feel that the demo for HL2 should be enough? IS it because a demo costs a lot to make for a return that is impossible to measure?
Want to know what I would do? Firstly I would release a new combined demo. This means levels SIMILAR to the ones found in the games. I would release four levels. Firstly a level based around the train station in HL2, then a Citadel or Airboat level, then one form EP1 and lastly a White Forest level from EP2.
Mixed in that I would include some non-committal cut scenes and movie-style cinematic trailers all designed to convince people to buy the Orange Box.
But wait, there does seem to be a orange Box demo! Alas it's only for Xbox 360consoles…. Does anybody know anything about it?
Finally, I am sure there was at least one other FPD demo that is available on Xbox 360 but not for PC, even though it's supposed to be a PC game. I checked through the Xbox Live Marketplace but could see it. Do you know of any.
In fact do you know of any new FPS demos, they don't even have to be Sci-Fi. I'm in the mood for something short and new!