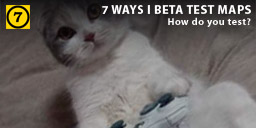 Lots of people think they can beta test, most can't.
Simply playing a level without forethought is only really useful for making sure it works on your system.
That in itself is important if enough people do it, but there's so much more to beta testing than that.
Ideally, a beta testers not only highlights issues but, if possible, offer solutions. Of course, this depends on the issues involved and the testers.
Below are the ways I test some levels sent to me. I don't have time to do all of them for all levels I am asked to test, but I try.
I am posting this article simply to stimulate discussion about testing techniques NOT to offer my services as a tester.
So, here are 7 ways I beta test a map.
Don't forget to add your own in the comments.
Number Seven: I play it like you.

Well, I mean I don't try and pretend to play like you do, I mean that I don't try to consciously beta test it.
I play it to get an overall feel for the level.
For this type of test I am not interested in details, just feel.
I ask myself questions like: did I enjoy it? If not, why not? If yes, what was it that I enjoyed.
Number Six: Video Commentary

I play it like but record the video and commentate on what impressions I have.
I know some people do this on their first play through, but I feel that the act of commentating interferes with the overall impression.
Too often, especially if they are publishing the recording, there more effort going into sounding cool than actually being helpful.
Number Five: I try to get out of the map

I love this stage of beta testing.
People like me and William from Podcast17 are perfect for this task.
We go all around the level looking for crates and barrels, just to stack them up and reach areas that the author didn't think possible.
Most times we encounter invisible walls but sometimes we can get behind the map.
Generally, it's just a case of adding a fence or some sort of barrier. Most times you just need to consider the number of items within easy reach of enticing looking areas.
Number Four: Enemies, Enemies and More Enemies

For this one I ignore everything except the enemies.
Here I am looking for the way I get attacked or more importantly how I can avoid it.
For example, putting a crate in front of a doorway may funnel the enemy to certain areas of the map, which change the way it plays.
I just try to find ways to make it hard for the enemies.
Number Three: This playthrough focuses on visuals

Here I am looking for textures misaligned or lightning etc.
It's not that important for some people but it's also not too hard to correct either.
Number Two: Speed Run

It's all about speed in this playthrough.
I run past enemies, jump down stairwells, anything to see if I can beat the map in the fastest possible time and find errors. Stuff like spawning enemies, scripts waiting to start etc.
Some people make this the standard way they play a map, but I don't really enjoy that much.
Number One: This is the break-it playthough

I try my best to break everything.
This includes walking into walls and shooting everything imaginable.
If there are puzzles I try to do everything in the wrong order to see if I get stuck.
I suppose I am trying to recreating the most strange situations that can occur.
Well, there you have them. How do you test maps?