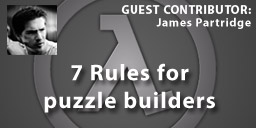 As a level designer I often take a keen interest in the puzzles that others include in their maps. Half Life 2 offers a huge wealth of puzzle possibilities due to the physics engine and the gravity gun. If you ask a player what their favourite puzzle in a game was they could probably tell you immediately (I'd like to know yours by the way) but they may not be able to tell you why.
Equally they may struggle to explain why a bad puzzle doesn't work, but in reality there are rules to a good game based puzzle and if you follow them, as a mapper you can't go wrong.
Here's my rules that I've learnt through creating maps and playtesting on how to create a good puzzle.
Don't forget to add your own in the comments.
Number Seven: The most important rule of puzzle building is that the player must never be trying to work out what the puzzle is!
To give an example, in one of the horrid Tomb Raider games you enter an area that seemingly has no exits. After about 10 mins of logical attempts to find an exit the player gives up all hope and ends up spamming the use button around every wall (I eventually found a hidden zip line at the area's highest point, then threw my PlayStation in the bin!).
The goal of the puzzle must always be clear and simple and obvious. Its how you reach that goal that is important.
Number Six: Solving the puzzle should require brain work AND SKILL!

This is often missed by mappers. A really good puzzle requires the player to first of all use their brain to join the dots on how to reach their goal and then secondly, use their skills in the game to achieve it. Many game puzzles emulate HL2's official game puzzles, for example "follow the wire back to its source" but then simply have a button push to solve the puzzle, not hugely challenging or fun. In Miigga's recent Magellanic Stream map we see how the player is then required to use their skill with the grav gun to drop the generator through a hole to solve this type of puzzle. Well done Miigga!
Number Five: The game mechanic or logic to solve the puzzle must be known to the player
his rule is one that, if broken, will infuriate most players. If your puzzle requires the player to learn a new game mechanic, it's much better to introduce that mechanic earlier in the map through some sort of training section rather than at the point of the puzzle.
So for example, say, I wanted to introduce explosive wooden crates to my map, this goes against player expectations. Crates aren't explosive in the HL2 world normally. Unless I've allowed the player to learn that new mechanic in a stress free section of the map prior to the puzzle, they're going to be pretty peeved with me when they finally figure this out. (And yes I know I'm guilty of this myself in my map Daylight with the window jump! Lesson learnt!).
Number Four: Never punish failure with death

Puzzles are all about exploring and allowing the player to explore. As a result, punishing that behaviour is bad. The player should always be able to get back up and try again. If they're going to fall, it's better to have them fall into water with a ladder that allows them to climb up and try again than have them pancake onto concrete. (yep, I'm guilty of this one too!).
Number Three: Abstract puzzles need forewarning

Place the miniature dog in the suitcase and turn it 360 degrees. Riiiiiight?
This is what I mean by abstract. We've seen some examples of this in the past on PlanetPhillip. Some people like these kinds of puzzles, I don't personally but hey, each to their own right?
I have to admit, I completely missed the point in the map Station Well. I just didn't get it.
I would recommend that a bit of forewarning should be required on these kinds of maps letting players know that they should be thinking outside the box.
Number Two: If you have to give the player a hint, your puzzle needs more work

Puzzles should be intuitive. That means that when the player enters the area they should be able to look at the scene and establish what they need to do. No text should appear telling them where to look, no NPC's should be telling them what to do, no cut scenes should show them important elements of the puzzle, they should simply be able to look and connect the steps required themselves.
If, during play testing, players can't do that, then the puzzle needs more work.
Number One: Only use new puzzles!

If you can't think of a new puzzle to go into your map, and you think about putting in a puzzle that appeared in the official HL2 game or its episodes, for goodness sake stop!
This is a waste of time. You're probably thinking of adding a puzzle because you feel there should be a puzzle in your map. I can tell you right now, that a puzzle that everyone knows the solution to, isn't any fun. I personally would leave it and keep on thinking or just leave out a puzzle altogether, I'm sure your action scenes will make up for it. If I have to go find that stupid orange gate wheel again I'm going to scream!
Well, that's it
I hope this has been useful for the mappers out there and interesting for players.
Please let me know your favourite puzzles you've seen in mods so far and what you'd like to see more of in future.
Till next time…