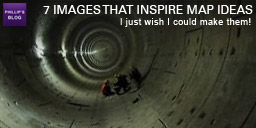 I'm not a mapper or modder (yet) but that doesn't stop me from imagining maps when I see certain images or photos.
These 7 photos are ones that when I saw them I thought "Mmm, that might make part of a cool map."
They are not in a particular order.
I should mention that no consideration has been made for engine limitation. I understand that engines can't create everything in the images, but that doesn't mean a clever modder couldn't use the idea as simple inspiration, hence the title of the post.
All the images enlarge.
If you have images that do the same for you, please add a link in the comments.
Number Seven:

I find this image quite scary. There is no obvious place to go. If something, and by something I mean liquid, comes down this pipe/tube/tunnel, you are seriously f*&ked!
Might make for a nice timed-event where you have to reach a certain point before the water drowns you. Or perhaps there is an escape hatch but it is carefully hidden and you need to follow the clues to find it.
Or even a race through various pipes with the jalopy.

Number Six:

I don't have claustrophobia but I can't say I like being it confined spaces very much.
The idea of bright and colourful places seems contrary to claustrophobia, since we always imagine it dark etc.
I feel trying to get a player a little panicked might be a good exercise and control.
Don't worry, there won't be a ClaustrophobiaVille!

Number Five:

I don't play many horror mods but the few I have, used cheap scares.
You know the sort I mean, the flashes on the screen etc.
I remember the mannequins from nightmare house (I think) and that was great.
Here, I can just imagine hearing the bats coming but not being able to see them until it's almost too late. I know this image is similar to the first one, but I felt it was different enough for a separate number. In this case, it's the not knowing exactly what's coming that is a big part of the emotion.

Number Four:

This was more about the idea of the unexpected. I'd like to be walking around city 17 and turn the corner and see a huge ship on its side. "WTF is that doing there?" Would of course be your first thought and perhaps that's the point of the mod.
Just shock the player with the unexpected.

Number Three:

Well, I recently released ForestVille and I have to admit I was hoping for something strange, but 10 days isn't really enough time to let your imagination run wild.
Perhaps it's the limitations of the editor or the engine, but there aren't too many Source mods that take inspiration from nature.
This particular photo just made me think of White Forest and how those tall rocks (?) could make an interesting section with headcrabs and antlions. Just a thought.

Number Two:

Okay, nobody likes mazes but this image got me wondering how a simple collection of blocks, doorways and drops could create something worth playing.
It may need to be put into an abstract setting to really work, but maybe something from Portal 1/2 could work too.

Number One:

To me, this has Ravenholm written all over it. Running through the forest to avoid the zombies (you have NO weapons) to suddenly come out into a clearing and see this.
Can you find a way in before they catch you and once you do, are you better off?
Night descends the moment you close the door and things just get worse from there.
Reach to top and you survive but the traps and zombies stand in your way.