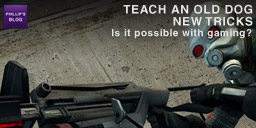 I have a background in skill acquisition and performance analysis. For me the concept of continually trying to improve in everything we do is natural. For many, applying this concept to gaming is strange, especially single player gaming.
I have written about this particular subject before with Cybergame players need coaches too and more to the point of this article: the Single Player Playing Guide.
That particular idea fell to the wayside as other projects became more important. I never really manged to convince players that it would be a useful thing and not being a great player myself, I would have relied upon others to do most of the work.
I never really completely gave up on the idea and was reminded of it again last week when I received a video from a request I made about playing Small Street on "hard". Benjamin Dunbar kindly stepped up to the challenge and supplied a video showing him beating it on hard.
I noticed how different he played to me and that got me thinking about how different we all play. Not just that but I learnt a better way to use the Mounted AR2 (watch the video and you'll see what I mean – unless you already knew that method!).
I'd loved to be able to say I managed to beat most mods on "hard", wouldn't you?
So, how do we go about collecting and publishing advice for SP gamers? Something like TF2 Tactics?