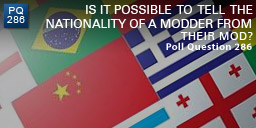 Back in 2006 I wrote an article entitled Cultural Influence of Stories and mods which discussed how some nationalities of science fiction writers tend to have general, underlying themes throughout their work.
I am resurrecting the idea for today's poll question.
To be honest, I certainly couldn't tell where a modder comes from based on their work in the modding community. Perhaps it is because mods are generally quite limited in their scope, especially if it is not a total conversion. It could also be that I am just not observant enough.
I think the concept holds true for full games but doesn't really stand up in the modding community.
What do you think?
Time to vote