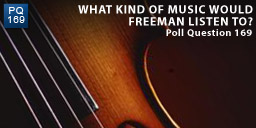 As with all my "What would Freeman…", the question relates to BEFORE the Black Mesa incident. Let's see if we can get a sort of consensus of his character.
This week, I ask about the kind of music he listens to. As with last week, you can choose a number of options. This week you have a maximum of two votes.
However, due to some really stupid answers in the Other box from last week, I have decided to not make that available. Seriously, who thinks "Cannibalism" is a holiday choice?
Anyway, onto music. Most people listen to a few different types of music but we probably have our favourites. I didn't list every style of music because that would be silly but I did try to offer a wide enough selection to suit most tastes.
I feel he would listen to jazz and classical. Sophisticated enough to see the mathematical beauty of Johann Sebastian Bach's Fugues [1 and 2] and laid back enough to let Miles Davis' So What play in the background while running lab tests.
What do you think?
The Poll