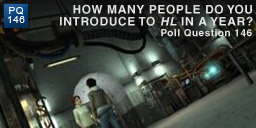 I believe that we have a duty to share something we love if we feel it is beneficial to others. Playing Half-Life games falls into this category for me.
I am probably older than you, sure I'm not the oldest visitor to this site (He is around 80 years old I think) but older than most. Most of my friends have children and don't really play PC games, well maybe the occasional game on the Wii, but that's it.
There are a lot of older people who would benefit from playing Half-Life and I feel there's a lot more we could do to encourage older players.
That said, there are probably a lot of younger gamers who don't really play HL because it's not new enough, and they might only play console games.
So, I say we should do our best to introduce our friends to the pleasures of Half-Life. I just wish I had time to work on my Introduce a buddy project.
On the same subject, how many people have you introduced to gaming?
The Poll