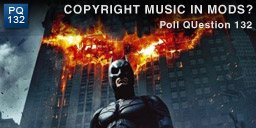 As I was working earlier this week I got messaged by a modder (who is gonna release a very cool EP2 mod soon), asking me what I thought about a particular band's music and including it in a mod.
It's a great question because it's been done hundreds of times before but it's never really talked about.
Of course, technically it's wrong but like lots of things in real life, it's almost accepted.
Personally I don't have a problem with it, because it can actually cause sales to happen. Maybe there needs to be some kind of licence that says one piece of music can be used in a mod, if a link back to the official site is given in the documentation. And only one piece of music mod can be used in that way.
That's a little unrealistic but the music industry really doesn't have a clue how to approach modern day piracy and the Internet.
Anyway, back to modding.
There's not enough music that is created specially for mods, there's a limited choice from the games themselves, so it doesn't really leave modders with many options.
What are your thoughts?
The Poll