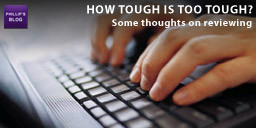 I received an email from a reader today asking that exact question; how tough is too tough? He is writing reviews and has received some negative feedback for those reviews.
I haven't read any of the reviews in question, so my comments are based on the topic rather than any specifics.
Here is a quote from the email:
So, in your opinion, what do you consider a good compromise between kicking someone in the balls for their hard work and being a yes man that makes all the reviews pointless? I've reviewed plenty of paid for games before, but that never got people throwing insults and bile."
I have never been one to shy away from giving my opinion, which is below, but I though it might make an interesting topic too.
I wrote about reviews in 2006, in a post called Reviewing the Reviews. It discusses the motivation and format of reviews, rather than the content.
In some way I don't think there should be a compromise. I feel that as amateur reviewers we have no commercial interests and don't need to worry about anything else except the review. Telling the truth should be all that matters. Being honest and justifying your opinions is more important than writing a review with the objective of pleasing or displeasing anybody.
However, sometimes it's not what you say but how you say it that counts.
I believe that we have a responsibility to always be polite. Writing negative reviews that simply try and entertain readers with insults and funny comparisons is cheap, at least in my humble opinion. I used to read some print gaming magazines and the reviews seemed very childish and more interested in being funny than helpful. I eventually stopped buying it.
Saying what you don't like about a map and justifying your point of view is very important. In many ways, think of it not as a review but more of a feedback essay.
Of course, unlike game reviews, map reviews can often help the mappers, because they can update their map or next piece of work. Also, mappers do what they do for love and are perhaps more emotional in regards to the review.
As a non-mapper I feel my reviews have a valid point of view, even if I missed things and did the wrong things. Sometimes that tells the modder something.
Another point worth making is that there are also lots of of positives in many maps and they should always be mentioned. Not just because a review should be balanced but simply because it's the right thing to do.
As with everything you can't please everybody all the time and I know that I like some reviewers and dislike others, so I don't believe a fair, honest review will be liked by all. People will disagree with your view point and there is nothing you can do about it.
Anyway, over to PP reader to add their opinion.