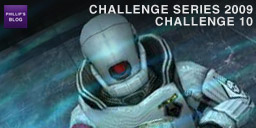 Welcome to Challenge Number 10.
If you don't know what the Challenge Series 2009 is all about, please read the Introduction.
Onto the tenth and final challenge (at least for this year).
The Challenge
I challenge you to play one difficulty level higher than you usually do. Don't worry, if you always play on HARD I have a trick for you.
Why
There's a phrase that sports players often use and that is "Always play with players that are better than you". It's wrong, for a number of reasons, the primary one is that if everybody did that nobody would agree to play with anybody. But it's always good to play with people better than you, if you can.
Clearly, playing on a higher level is challenging and if done occasionally then it can certainly improve your skill. The key is to do it at selected times and with mods that you find easy, otherwise it can be too frustrating and have a negative effect.
How
It's not exactly Rocket Science. Just go to the options page on the main menu of whatever game or mod you are playing and select the next level up.
Play for as long as possible but not until you are frustrated. Think of it like any new form of exercise; don't do it for too long for the first time and take breaks when you get tired.
I recommend you read the next part even if you normally play on Easy or Medium because it contains a potentially fun hack for you to try.
Harder than Hard?
Part of the reason for this challenge being a little late is I took longer than expected to find an answer. I was convinced it would be easy to find but it wasn't – as always it helps if you know what you are looking for.
What you will do is create a simple text file that will contain commands that override the settings of the enemies health and the weapons strength. I don't claim to be an expert and there might be a much better/easier/faster/more elegant way to do it, but I tried it and it works.
Create a text file with a .cfg extension, I called mine myskill.cfg. Which was stolen from the Synergy Mod WIki – Thanks guys.
I highly recommend you use mine as a template, but you could easily start from nothing if you know what you are doing. The file can be edited in any text editor – NOT word processor but TEXT editors (Notepad etc). Each line contains an item and its value. Let's look at a few examples:
// Zombie
sk_zombie_health "100"
This should be clear enough. It's the health a zombie starts with.
sk_zombie_dmg_one_slash "10"
How much damage a zombie does with a single slash.
sk_zombie_dmg_both_slash "25"
How much damage a zombie does with a double slash.
Now, adjust those numbers to suit your skill and preference and copy it into the same folder as the config.cfg file of the game or mod you are playing.
Launch the game or mod and bring up the console (see my How To.. guide for help).
In the console, type exec myskill (or whatever you named your file) press enter or click submit. Nothing should happen, at least nothing you can see.
From this point onwards the enemies and weapons will have the values you specified in the myskill.cfg file. Adjust those values to your hearts' content. (If you pause mid-game and edit the file, I believe you have to execute the file again before it will work with the new values)
There may be many other options you can use but the ones in my template should be enough to get you started.
Once you restart your game or mod the default values will return. They only take effect when you manually execute the file via the console. It's probably possible to have it run via commands in the launch options of the games or mods, but I haven't tried it.
All of these options can be typed into the console directly and used individually, but that seems like a lot of trouble unless you are having problems with a particular section of a map or mod.
Harder or easier?
The great thing about this technique is that you can create various custom difficulty levels to suit your likes and dislikes. For example, I made all the headcrabs and their variations have a health of 1, meaning they die with just one hit, I then made the Combine Soldiers have a health of 100 making them harder to kill.
Don't forget about yourself.
You can even adjust your suit's capacity, charging stations, amount of health per kit etc. So, don't just think it's a one way street. You can make your enemies harder and/or your health lower.
Interesting Combinations
Please feel free to share your values and settings. Maybe we can create a small collection of fun or challenging settings that we all try and comment on.
It's such a shame this can't be done in-game with a proper menu but it's not that hard to do manually.
Your Experiences
Don't forget a major part of the challenge series is to share our experiences. Don't let my questions limit you but here are some to get you started:
How long did you first session last?
Was the second time easier?
Did it change your playing sytle much?
Once the challenge is over will you continue playing on the higher level?