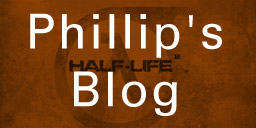 In a post entitled Loading Screens: A Waste Of Time? Leon said; "it's even nice to have small break between all the action." I disagreed because I feel that's the job of the developer but it got me thinking about the flow of levels and the constraints of a game engine. Let me explain.
Quick Survey
Here are a few questions for you:
On average how long do you spend playing a game in one sitting?
Is that through choice or circumstances like outside distractions?
What would be your ideal play time? (You know, in a perfect world)
Have you or would you play a game right through without stopping?
I considered installing a polling system for the above questions but decided against it. I think the answer may be very interesting. I personally play for a max of 2 hours before I need to take a break. It's not the sitting down in fornt of a computer (I do that for 10 hours or more sometimes) it's the level of commintment. I get too excited.
A Prefect Engine
Anyway, can you imagine a game where there were no levels? The game engine and the computer you were playing it on have the ability to create and load an area so big just moving from one corner to another would take hours. All the details are there, meaning there's no mini loads. In fact that's irrelevant, as long as the player is completely unaware of it.
How would this affect level design? How would it affect you playing routine or rhythm? Knowing that there are no defined levels could make it hard for the designers to control the action. Are level need from a purely gameplay point of view?
Was Leon right about needing a break? IS it the job of the designers to control that, or should it be the player who decides?
Perhaps instead of levels players reach Option Areas. These allow the player to choose the type of next section they play. All would need to be played eventually but it's the player who decides the flow not the designer. Maybe that's giving the player too much control.
Your turn
I have quite a bit more to say but I think I'll open it up for discussion first.