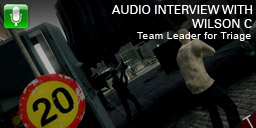 Triage has generated some interesting discussion and Wilson, the lead developer, and I found some time to chat.
I grill him on the significant changes made to the gameplay and I have to say he responses were thoughtful and insightful.
That's not to say that he thinks the mod is perfect and we also discuss the errors made.
It's about an hour long and the interview seems to end three times but I suddenly start talking about something else.
Lastly, I seem to cut him off at the end, so sorry about that.
Enjoy.
Listen to the interview
Loading…